Fast, Efficient and Affordable Water Line Repair and Replacement in Orange County, Osceola County and Seminole County, FL
Your water main is the primary pipe that brings clean and fresh water to your home or business from the public water supply.  The main water pipe runs into your home through the slab, crawlspace or basement, depending on the type of foundation your home is built upon. With the water line underground, it is generally well-protected and is able to last for long. Unfortunately, problems do arise with underground water lines, creating the need for water line repairs and replacement.  High water pressure and changes in the earth surrounding the line can damage the integrity of your water line and cause cracks or leaks.
If you are experiencing any water line problems, the professionals at El Plomero Latino Inc. can help! We provide fast and efficient Water Line Repair & Replacement in Orange County, Osceola County, and Seminole County, FL. We can diagnose your water line problems and even offer underground water line repairs without excavation. Give us a call at (407) 362-7654 to learn more about our water line services.
Experienced Water Line Repair & Replacement Specialists Near Me
Water line issues require the help of an experienced plumber. If you believe your water line has been damaged and is leaking, contact the professionals at El Plomero Latino Inc. We have the means to diagnose and fix all your water line problems without excavating or damaging your property.  Our plumbers are highly trained, experienced and well equipped to combat all water line issues, no matter the severity.
With more than 29 years of experience in the industry, you can rest assured that the job will be done right the first time. Our plumbers undergo a rigorous in-house and on-the-field training program to ensure seamless performance.  When you hire us, you can rest assured that we have your best interest at heart.  We work diligently to go above and beyond your expectations. We are clean and respectful plumbers and we will leave your property clean after completing the job.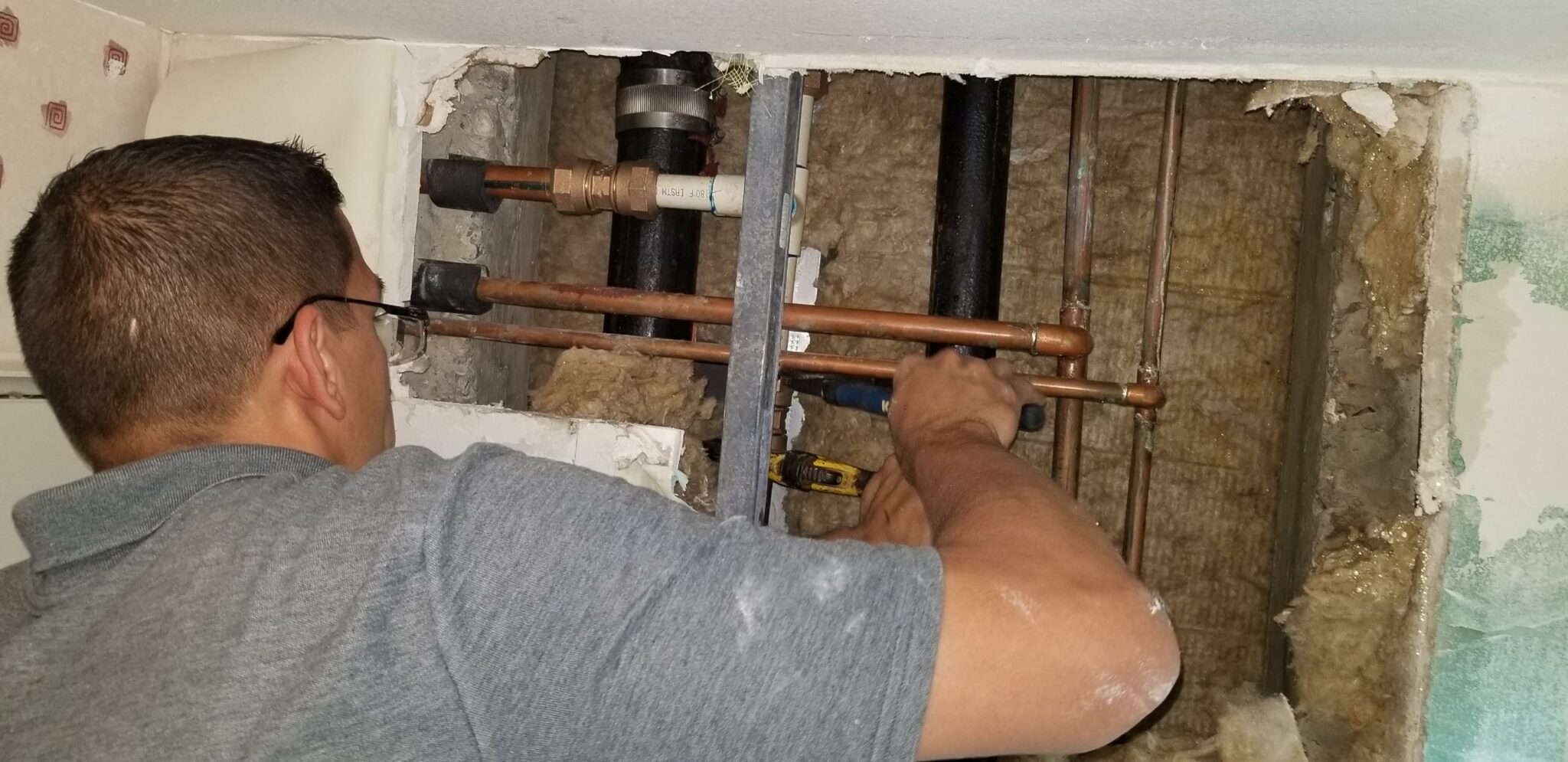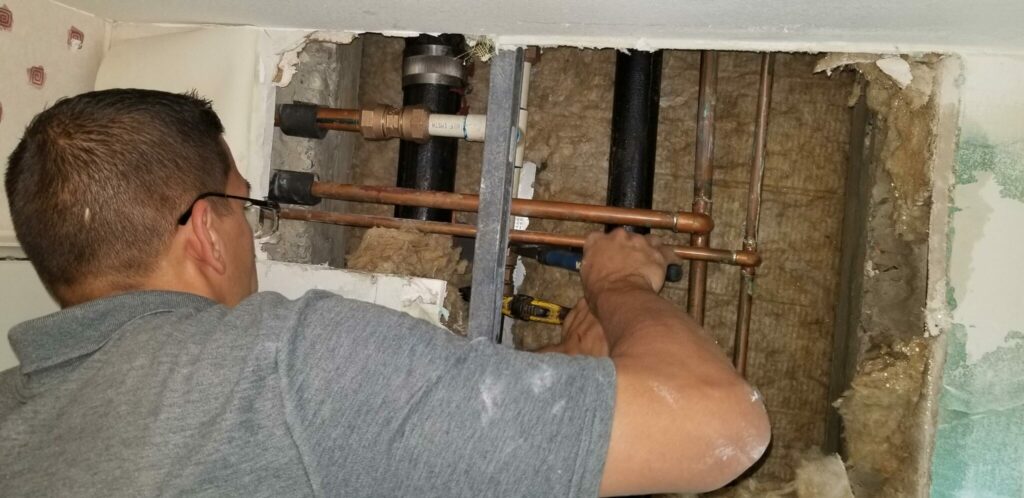 Three Common Signs You Have a Water Line Problem
Discolored Water – Discolored water could be a telltale sign of significantly corroded pipes or that dirt is entering your water system through cracks in the line. Either way, contact us for repair or full water line replacement.
An Increase in Your Water Bill – If your water bill has skyrocketed and you have no idea why, it might be an indication that you have a compromised water main, a cracked water line, or a hidden leak.  Contact the professional plumbers at El Plomero Latino Inc. to diagnose the issue and perform the necessary repairs.
Low Water Pressure –There can be a number of causes for low water pressure. It could be due to a leak, oxidation, obstruction or clogs caused by the sediment buildup or mineral deposits inside the line.  No matter the cause of your low water pressure, El Plomero Latino Inc. can help. Contact our water line experts to diagnose the issue and recommend the necessary repair options.
If you are looking for an experienced plumber in Orange County, Osceola County or Seminole County, FL, look no further than El Plomero Latino Inc. Our plumbers are the experts of the field and they have what it takes to fix any water line issues in the best possible manner. Give us a call at (407) 362-7654 to schedule an appointment with one of the licensed and insured plumbers.
WE Love Our Customers & They love us !
Jeffrey Ortega was very professional. He came in within the time frame i was given and was very diligent. Thanks for coming in and getting my issue solved. I will definitely call them again if i need any plumbing done.
I received a text from Jeffrey Ortega before arrival. He arrived on time. He assessed the situation by talking to us first and then determined the best way to unclog our pipes. It was a success, he showed us what caused the clog, how to avoid having it happen again and then showed us the outcome. Everything is working now. We are glad to have the services done by Jeffrey Ortega who represents El Plomero Latino! We will recommend your services.
Jeffrey was very professional with the work he did in my house. He was on time very fast and explained everything that he was doing and will need to be done in the future. Just because of this outstanding service i will definitly be useing this company again.
Jeff was amazing very knowledgeable and professional. Even showed up earlier then the ETA provided. Very clean and organized. We were able to get back to our normal within two hours. I highly recommend El Plomero Latino. A very big Thank you from our family!
This is my second time using this company for my business needs. And let me share with you they are the company to go to for anything plumbing related. Not only are they professional and communicative they take on the task and educate you along the way I highly highly recommend them! Thank you so much!
This company was very professional and quickly responded to my situation. When Mr. Figueroa arrived at my house he was very knowledgeable and explained everything to me beforehand. The job was done very quickly and there were no surprises during the billing process. I can not complain about their service. I would highly recommend to anybody in this area!!