Reparacion y Reemplazo De
La Linea de alcantarilla
Reparación y reemplazo de líneas de alcantarillado por expertos, oportunos y asequibles en el condado de Orange, el condado de Osceola y el condado de Seminole, FL
Su línea de alcantarillado es un componente esencial de su sistema de plomería. Es responsable de llevar sus aguas residuales a la línea municipal, que eventualmente las lleva a la planta de tratamiento de aguas residuales. Si se rompe una línea de alcantarillado, las aguas residuales se filtran al suelo, lo que resulta en un grave peligro para la salud de usted y su familia. Las líneas de alcantarillado dañadas pueden ser increíblemente agravantes para los propietarios.
Afortunadamente, El Plomero Latino Inc. tiene las herramientas y la experiencia necesaria para encontrar y solucionar rápidamente cualquier problema de alcantarillado. Hemos estado sirviendo a las empresas y propietarios de viviendas en el condado de Orange, el condado de Osceola y el condado de Seminole, FL durante décadas. Ningún problema de la línea de alcantarillado es demasiado grande o demasiado pequeño para que resuelva nuestro equipo. Lo hemos visto y lo hemos hecho todo cuando se trata de reparación y reemplazo de líneas de alcantarillado.
Utilizamos tecnologías modernas, como nuestras cámaras de inspección de video de alta tecnología para inspeccionar su línea de alcantarillado y determinar el mejor curso de acción. Nuestros plomeros comprenden los entresijos de solucionar los problemas de las líneas de alcantarillado y estamos preparados para ocuparnos de su problema de plomería de inmediato. Llámanos al (407) 362-7654 para programar una cita hoy.
Somos sus expertos locales de confianza en líneas de alcantarillado
Cuando se trata de lidiar con desechos y sistemas de tuberías complejos, El Plomero Latino Inc. es el nombre en quien confiar. Desde la instalación de tuberías nuevas hasta la reparación de tuberías dañadas y la limpieza de tuberías bloqueadas, lo tenemos cubierto. Nos encanta la plomería y estamos dedicados a garantizar que su sistema de plomería funcione sin problemas en todo momento. Creemos en la honestidad y la transparencia, y nunca nos aprovechamos de nuestros clientes. Cuando nos llame, primero inspeccionaremos sus líneas de alcantarillado usando cámaras de video para alcantarillado y luego le presentaremos todas las opciones de reparación disponibles. También siempre nos esforzamos por trabajar rápidamente, utilizar materiales duraderos y completar cada trabajo de manera rentable. Contáctenos hoy para saber cómo podemos ayudarlo a reparar o reemplazar su línea de alcantarillado.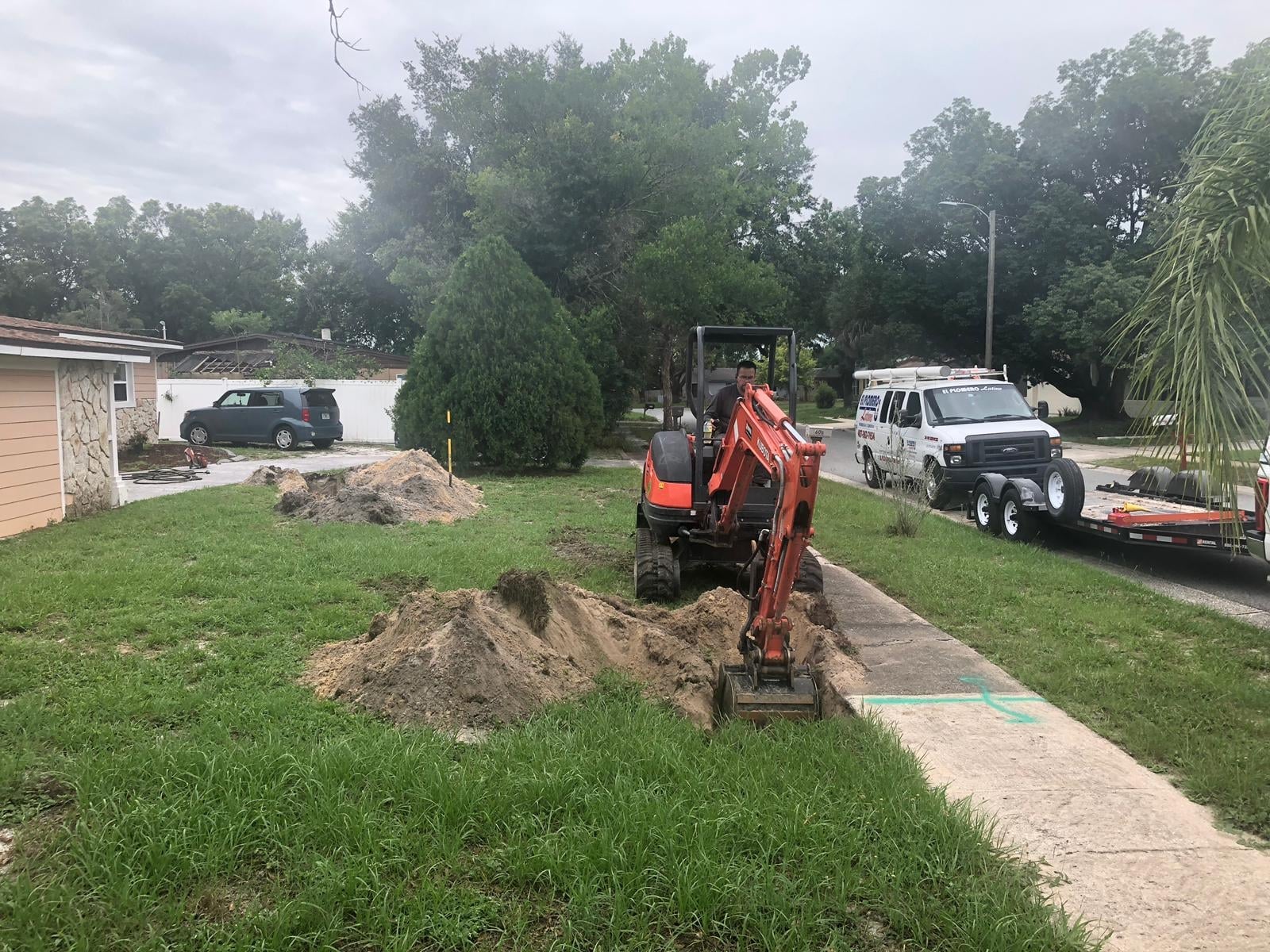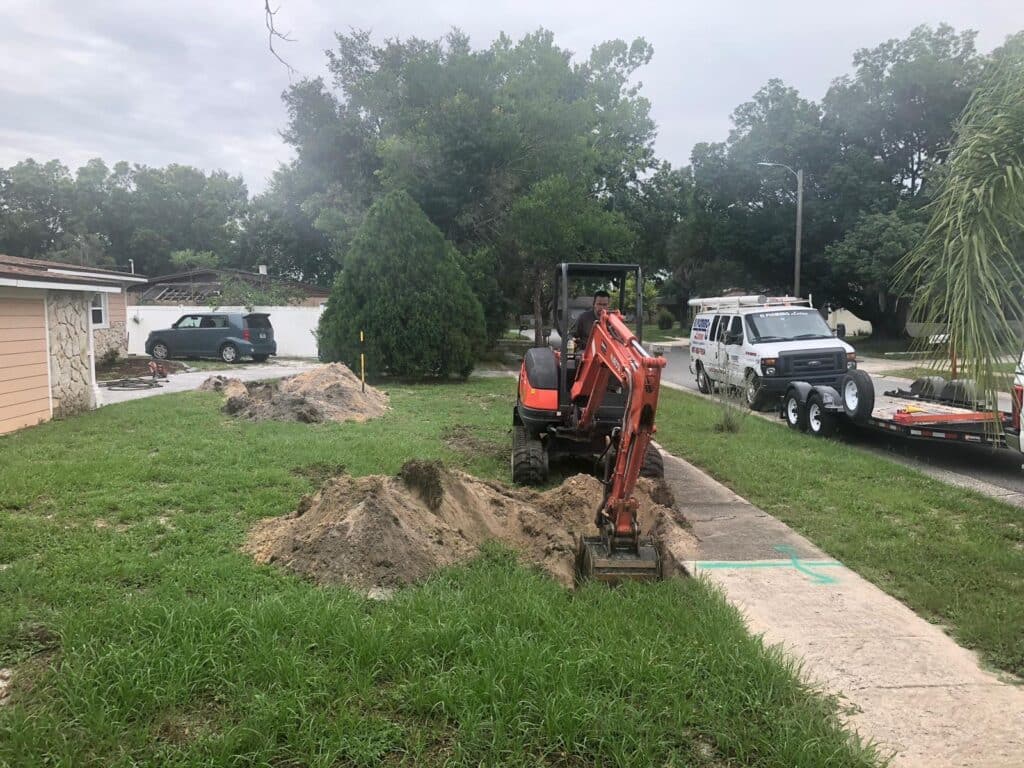 Tres causas comunes de problemas en las líneas de alcantarillado
Raíces de los árboles: si las raíces de los árboles crecen lo suficiente, pueden entrar en las tuberías y formar cepellones que obstruyen las líneas. Esto también puede causar daños graves en las líneas de alcantarillado, que pueden ser costosas de reparar. Es muy recomendable no plantar árboles cerca de las tuberías. Nuestros plomeros tienen el equipo y la experiencia necesarios para ayudarlo a eliminar las raíces de los árboles de sus líneas de alcantarillado.
Corrosión de las tuberías: debido al contacto frecuente con el agua y otros materiales, las tuberías de alcantarillado pueden comenzar a oxidarse con el tiempo. Además de provocar un drenaje lento, el óxido puede corroer el exterior de la tubería, lo que puede provocar grietas y fugas. Nuestros plomeros pueden realizar una inspección detallada de la cámara de alcantarillado para determinar el estado de sus tuberías y recomendar las opciones de reparación necesarias.
Bloqueo: la grasa, las grasas y los aceites son algunos de los mayores culpables cuando se trata de obstruir las líneas. Las líneas de alcantarillado pueden bloquearse si sigue tirando objetos que no deben tirarse, como tampones y pañales.
Póngase en contacto con nosotros hoy
Si tiene un problema de alcantarillado o desagüe, le garantizamos que podemos diagnosticarlo y solucionarlo, ¡a menudo el mismo día! Llevamos más de 29 años sirviendo a los residentes de los condados de Orange, Osceola y Seminole, FL, con servicios de plomería de primera calidad. Consideramos que nuestros fontaneros son los mejores en el negocio. Llámanos al (407) 362-7654 para programar una cita hoy.
WE Love Our Customers & They love us !
Jeffrey Ortega was very professional. He came in within the time frame i was given and was very diligent. Thanks for coming in and getting my issue solved. I will definitely call them again if i need any plumbing done.
I received a text from Jeffrey Ortega before arrival. He arrived on time. He assessed the situation by talking to us first and then determined the best way to unclog our pipes. It was a success, he showed us what caused the clog, how to avoid having it happen again and then showed us the outcome. Everything is working now. We are glad to have the services done by Jeffrey Ortega who represents El Plomero Latino! We will recommend your services.
Jeffrey was very professional with the work he did in my house. He was on time very fast and explained everything that he was doing and will need to be done in the future. Just because of this outstanding service i will definitly be useing this company again.
Jeff was amazing very knowledgeable and professional. Even showed up earlier then the ETA provided. Very clean and organized. We were able to get back to our normal within two hours. I highly recommend El Plomero Latino. A very big Thank you from our family!
This is my second time using this company for my business needs. And let me share with you they are the company to go to for anything plumbing related. Not only are they professional and communicative they take on the task and educate you along the way I highly highly recommend them! Thank you so much!
This company was very professional and quickly responded to my situation. When Mr. Figueroa arrived at my house he was very knowledgeable and explained everything to me beforehand. The job was done very quickly and there were no surprises during the billing process. I can not complain about their service. I would highly recommend to anybody in this area!!